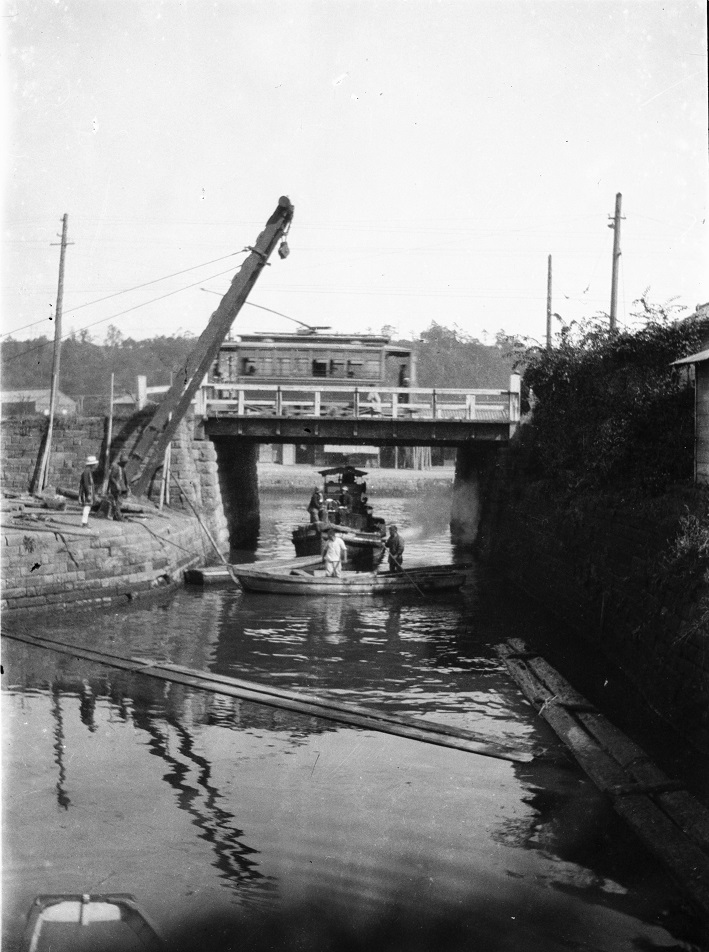 I had long heard stories about a site in Yokohama where Helm Brothers built its barges and tugboats. At the turn of the century, in the late 1800s or early 1900s, my great grandfather, Julius Helm, would go with the company's carpenter into the woods outside of Yokohama to help him select the best trees to cut to build the ships.
Then some years ago, Toshiko, my father's second wife, who lives near Negishi station in Yokohama, sent me a clipping about a sign on a bridge that marked the location of Helm Dock. The story didn't say where the bridge was so I never bothered to follow up.
But then I came across some pictures my Uncle Ray had taken in the early 1950s when he had been stationed with the U.S. Army in South Korea and had visited my parents in Yokohama during a break.
He had taken a picture of my grandfather, Julie Helm, looking on as a barge was under construction.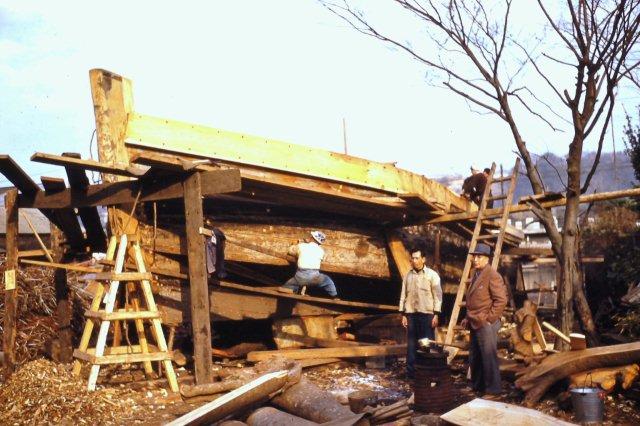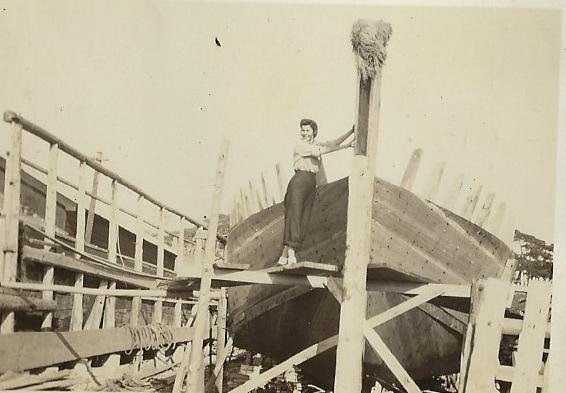 Now suddenly this picture of my mother made some sense. I had Long assumed she had visited some shipyard, but now it seems likely this picture was taken at Helm Dock.
Then something else slipped into place. When the Japanese version of my book came out, Joji Tsunoda reached out to me. I have written about him on this blog before. Joji told the story he heard from his uncle. Shortly before his father married, Joji's uncle was walking passed the dock when he heard a large Danish gentleman screaming at some Japanese workers.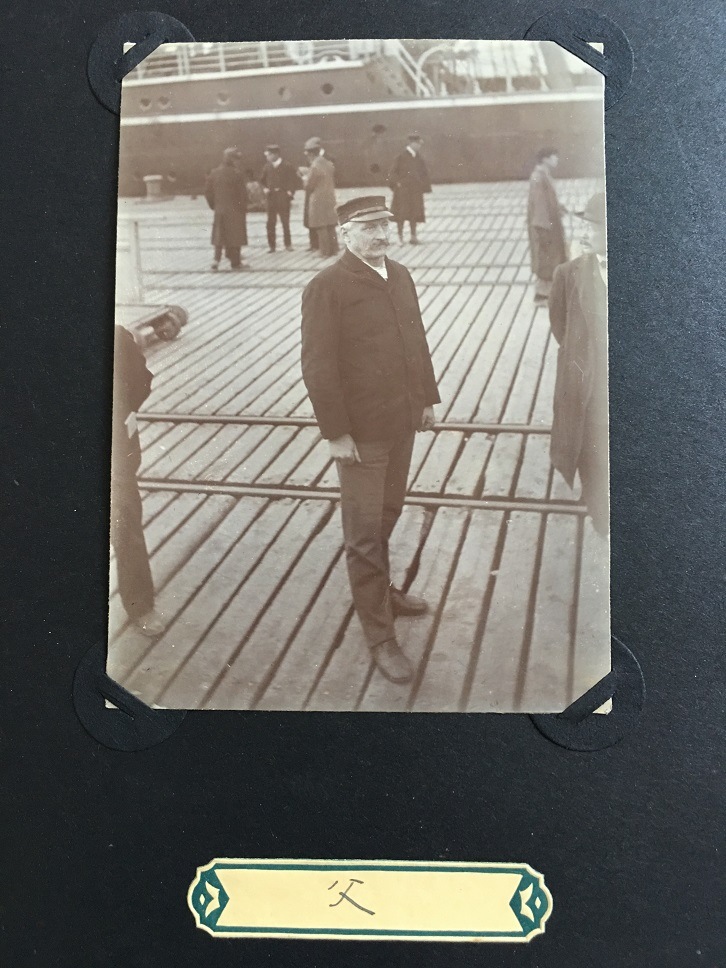 The Danish man, Wolff, had been Joji's grandfather, who worked for Helm Brothers. Joji's uncle went home and told his sister, who was engaged to be married to Joji's father, that she was about the marry the son of a devil. At the time, seeing the picture above, I assumed that Wolf had managed Helm Brothers operations at Yokohama harbor, but Joji later told me that Wolff had been manager of Helm Dock. And as I was going through Joji's father's treasure trove of Yokohama pictures, I came across one taken about 1919 that I thought could be a picture in the vicinity of Helm Dock.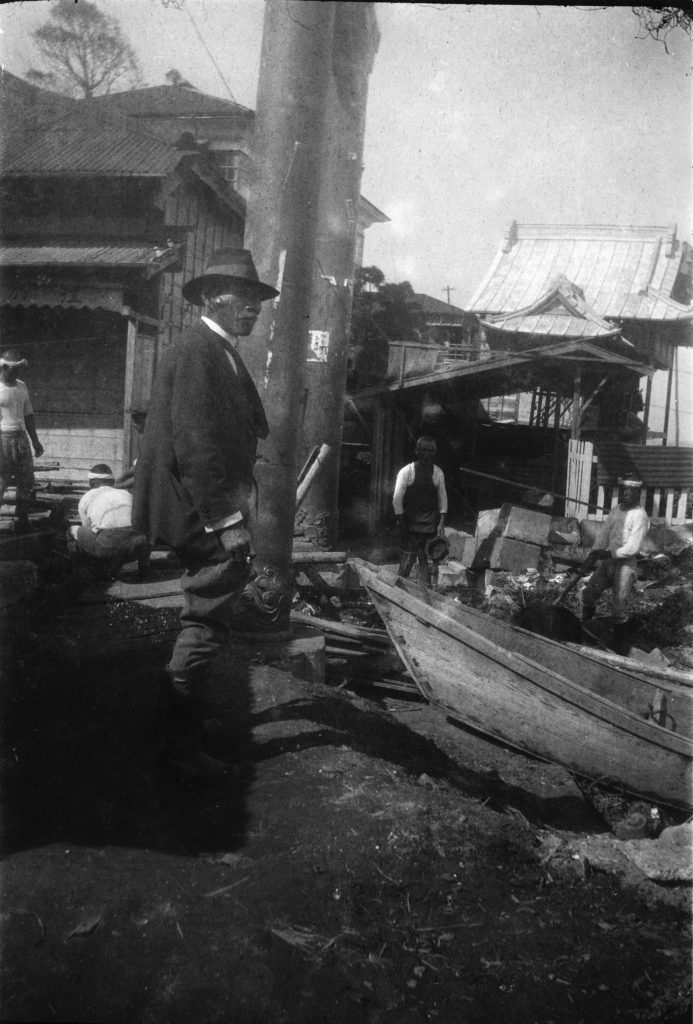 Now I was truly curious. I went through records of properties in Yokohama that the Helms had once owned. On the list was a very large property at 200 Takegashira, Negishi. That must be it, I thought. On this day, Japan was playing the United States in the World Baseball Classic. Everyone's eyes would be glued to their television sets. It would be a good day to explore. I took the train to Negishi Station and asked a policeman for directions. Go to the river then turn right before crossing the bridge, he said. He warned me that Takegashira was on the other side of the river, but that there was no sidewalk on either side of the road and the traffic was heavy.
I thanked the kind policeman and walked the half a mile through a rather bleak landscape toward the river. Then I spotted a sembe, rice cracker, store. The lady was making her own rice crackers on an electric grill and they looked delicious. She said her husband used to make the crackers but she had taken over and was experimenting with different recipes. Fortunately most were the classic soy sauce and sesame sembe I like best. I wanted two gift boxes and she let me select my favorites for each box. I could tell she was listening to the baseball game on the radio. Every now and then she would go back into the store and pause for a couple of minutes. She was going to put my two gift boxes in two separate bags, but I asked her to consolidated them since I would be walking for a while. She folded up one of the bags and slipped it into the one bag with the two large boxes of sembe and I was on my way. She recommended that if I had time I should see the sakura at the park nearby. I thanked her and went on my way.
Carrying my large boxes of sembe I walked along that wide, heavily trafficked road until I finally reached the river and turned right just before the river as the policeman had recommended. I walked along the river, checking each bridge for signs that might say Helm Dock. There was nothing for two bridges. As I approached the third bridge, I looked across what the policeman had described as a river, but I now realized, was more like a canal. This is what I saw.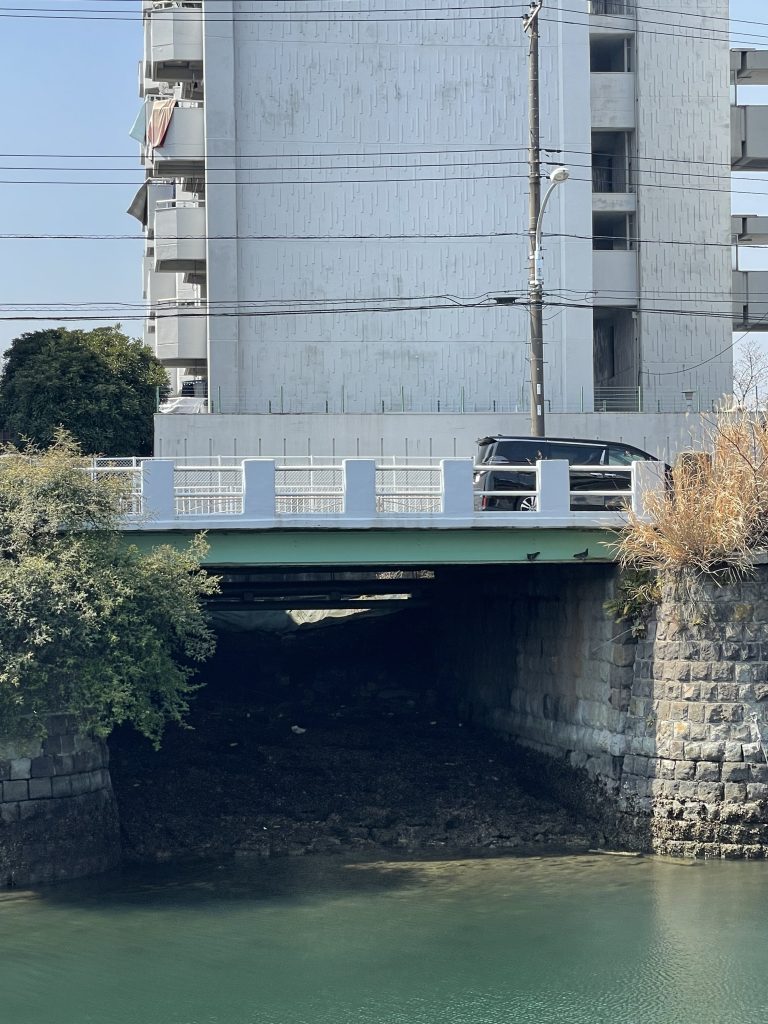 There was a tiny bridge, under which was a stone ramp–what could well be the remains of the Helm Dock. I crossed the canal, and walked along the side of the bridge looking for a Helm Dock sign. There was none. Meanwhile, big trucks were speeding past awfully close to the railing–one came within a few inches of me. I gave up on my search for the sign. Why would they put a sign in such a dangerous place anyway! I crossed a bridge and found a side entrance to the building sitting atop the bridge. I saw a lady with a bag of groceries headed for the apartment building. I told her I was looking for Helm Dock. "That's it right there," she said, pointing to the narrow space between the apartment building and the tiny bridge. The apartment building had been built right on top of where the ship-building site had once been. When I tried to ask more questions she shook her head: "The final game of the world baseball tournament is about to start. I nodded my head. I understood. The streets were empty and I had nobody else to ask. I didn't know how to get to the hilltop park the sembe lady had recommended so instead I took a bus to Sankeien, a beautiful garden park in the neighborhood where my great grandfather had once summered. I still have a cousin who lives on what locals sometimes called Helm hill. I was hungry so I went into a soba shop in time to see the patrons celebrating Japan's victory over the United States. Batting and pitching star Ohtani had come in a relief pitcher in the final inning to strike out his Angels teammate and the stadium had erupted with cheers. The old men in the soba shop quietly cheered too as the broadcast station kept repeating the best plays of the game. "Japan is not doing so well these days but at least were at the top of the world in baseball," said one old man. You know, it's not well known, but Ohtani's father worked at a Mitsubishi Heavy factory in this neighborhood. Spread the word. He's really one of ours." I was happy for Japan, and happy that these men were adopting Ohtani as a local boy. The economy was weak, salaries had hardly budged in three decades and the recent Olympics had been a disaster. Now, finally, Japan had something to celebrate. Meanwhile, I was pleased by my own little discovery. I had found the Dock. On closer examination, it seems clear that the photo from Joji was taken from Helm Dock on the other side of the same bridge!