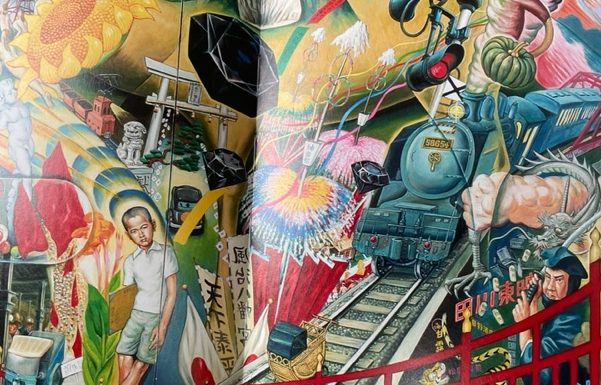 I've never been much of a fan for art exhibits in Japan. Too often they throw together a bunch of stuff without any rhyme or reason. But this exhibit at the Tokyo Station Gallery uses woodblock prints, oil paintings, photographs, textiles and even an image of a bathtub installation to offer deep insights into the myriad of ways in which railroads have had a deep and enduring impact on Japanese culture, labor practices, social behavior and urban developments. Here are just a few examples.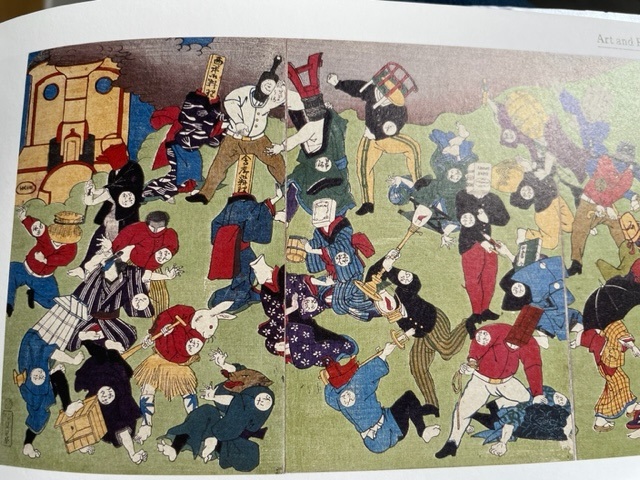 This image doesn't contain any images of trains, but it established the context for the train's introduction, by illustrating the many areas in which the arrival of westerners posed a challenge to Japanese tradition. The people in western dress are shown beating up on people in traditional dress. The heads represent the challenges. On the bottom right is brick, and to the left is a lamp. Further to the left is a rabbit, which is beating on a wild boar.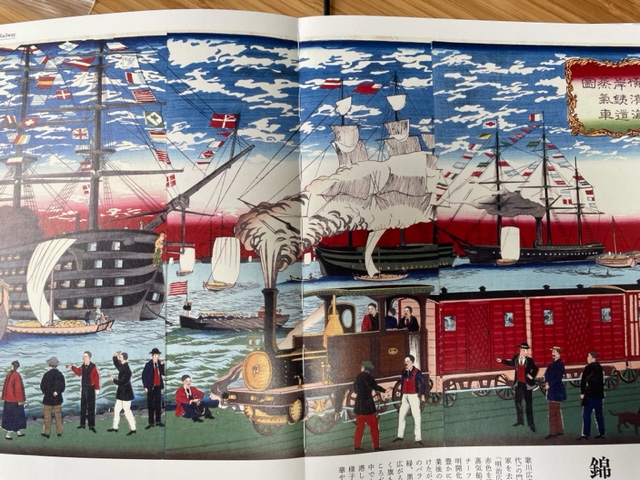 This is one of many classic woodblock prints that show "black ships," which brought the westerners to Japan, and the trains hey introduced.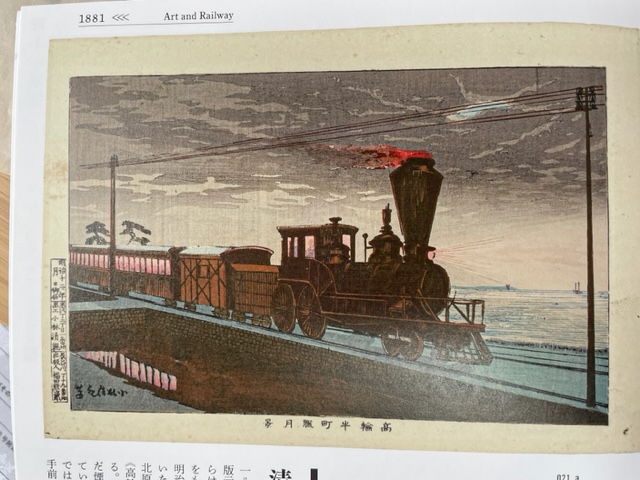 This woodblock print by Kobayashi Kiyochika is from 1879. It's only been seven years since the first train traveled from Yokohama to Shimbashi, but already the train, while fierce with flames coming from its locomative already seems somehow romantic and very much a part of the Japanese landscape.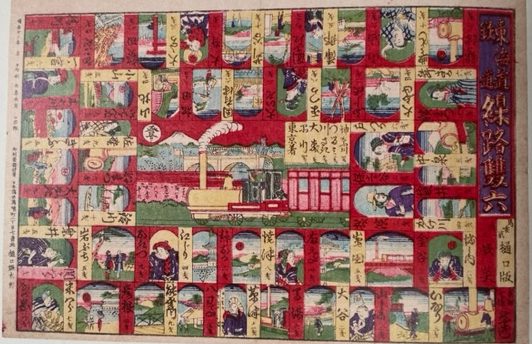 Rail lines are being laid at a furious pace along the Tokaido, long a traditional route to walk between Kyoto and Tokyo. In this traditional board game image created in 1889, each box represents a train station on the Tokaido Railway.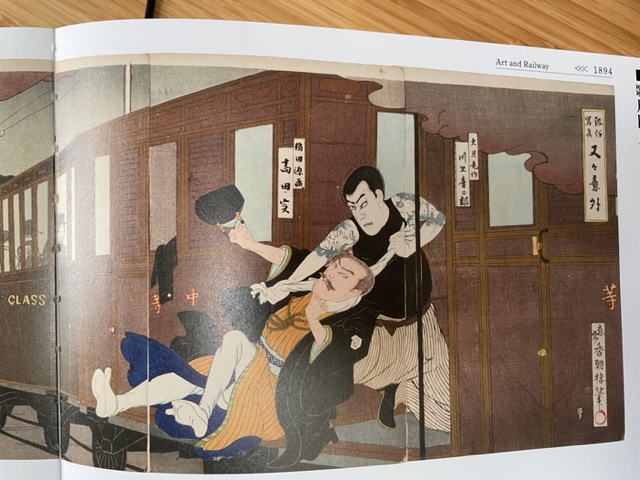 You know trains have become a part of every day life when an image comes out illustrating a murder that took place on a trains, as was this 1994 image by Utagawa Kunisada III.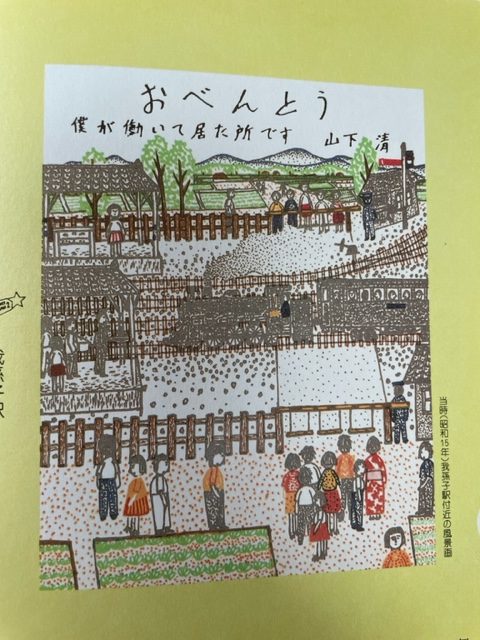 By 1940, the railroads are deeply imbedded in Japanese society and Japan is making its own contribution to train travel: bento boxes that include regional specialties. This is the light hearted side of the Japan experience, but there are many more dark images representing labor strife during the early 1930s. Their are designs for the special train cars built for occupation authorities after the war[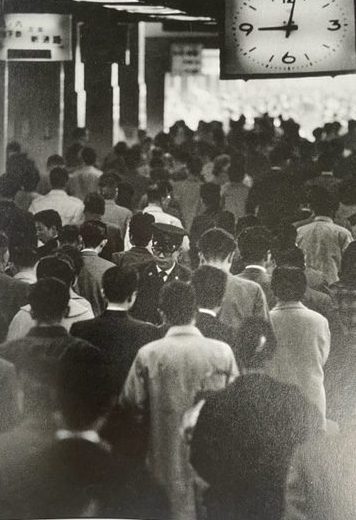 To many westerners, the image we have of Japan today are the faceless crowds best represented by images of people pouring into train stations. It sometimes feels as if that image of blank, inscrutable faces says something about the culture. But it's easy to forget that this image, is to a great extent, a product of Japanese railways, not something that was part of traditional Japan. When you are crushed in a train, you need to put on that mask to hide yourself.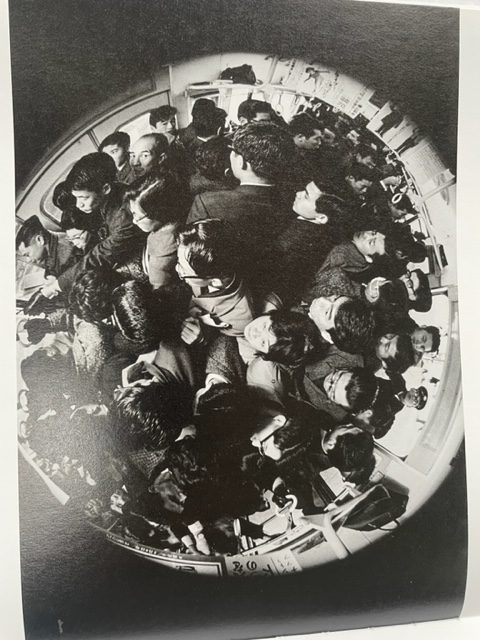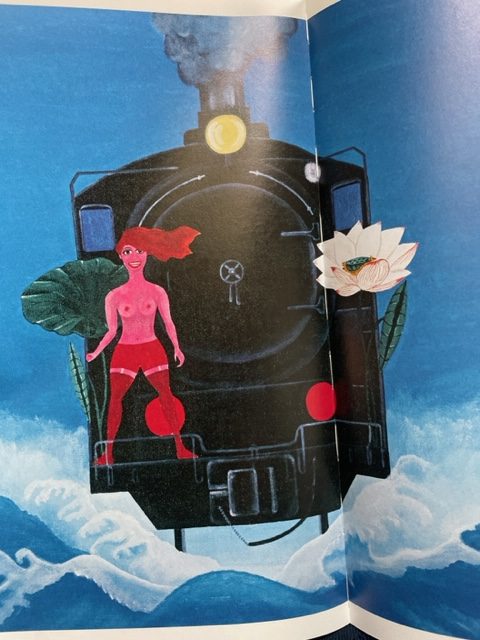 Of course there are flights of fancy and other paintings that are Daliesque