Yokohama Yankee Arrives From Printer
I learned on Friday that the printer had completed printing my book far earlier than expected. A friend emailed me that Amazon had sent him a message saying he would be receiving the book at the end of February,  full month earlier than they had reported earlier. I found it hard to focus at work as I planned to pick up the book at my publishers house later that day. (The advantages of having a local publisher!)
I love the book. The designer, Josh Powell, is also based in Seattle so that allowed us to go back and forth on a lot of the pictures in the book. Just before sending the book to the printers, we added a picture of my son with the American flag in the chapter opener about my family coming home to Seattle. So when I opened up the newly printed book I was tickled to find yeat another picture I hadn't realized Josh was going to use.
The picture is of me on a boat wearing a silly sun hat. Perhaps I may have been whisting, but I suspect I was just looking dorky, like I often did.The photo may be the Josh's ironic take on the title "Yokohama Yankee." But I like the picture because of the counterpoint between this picture and a cute picture of my son, later in the book, with the American flag.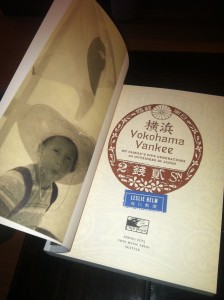 About the Author
Leslie Helm was born and raised in Yokohama, Japan, where his family has lived since 1869. He has worked as Tokyo correspondent for Business Week and the Los Angeles Times. It was during his years abroad that he adopted two Japanese children and began the research that would result in Yokohama Yankee. Helm is currently editor of Seattle Business magazine. Leslie graduated from the University of California, Berkeley with a B.A. in political science and an M.A. in Asian studies. He attended the Columbia University Graduate School of Journalism on a U.S. Japan Friendship Commission fellowship. Helm is currently editor of Seattle Business magazine.